Hi Everyone,
Just wanted to extend a few more thank-you's and pass on a few pics so far---!

Thanks again: To all the referees who did such a wonderful (and thorough) job!
Chad Gamache, Kathryn Brooking, Bruce Coulter and Bryan Brooking!

To Ron Ross, Bruce Coulter and Bryan Brooking for their many talents on the bench!!

To Janet Waddington (Fraser Valley), Linda Wallace (Abbotsford) and Jane Mowry (Nanaimo)for lugging their sets of white, red and black jerseys up to Penticton.

To all of you for participating, taking time out from your busy schedules to come and have some fun!

Here are a few photos----- The group photos seen here are too dark (darn digital cameras)--but Bryan's will be sent out as soon as he gets them back--(Give me a roll of Kodak film and a Pentax any day!!)---I am sure his will be fabulous!

Thanks again everyone! See you next year!!!!!!

KATY MAYRS

PS---Congrats to the BLACK ADDERS for the best name prize-(even though technically there wasn't really a prize!!!??)

TEAM RED (RED WINGS)
Linda Wallace
Abbotsford
Forward
Halena MacDonald
Quesnel
Forward
Jane Mowry
Nanaimo
Forward
Jo Ann Scott
Nanaimo
Forward
Janice Brooking
NW Van
Defence
Debbie Coulter
NW Van
Defence
Joya Gamache
NW Van
Centre
Hilary Smith
NW Van
Defence
Tracy Janzen
Penticton
Defence
Michelle Parkin
Penticton
Center
Annie Harkins
NW Van
Defence
TEAM BLACK (BLACK ADDERS)

Joan Singleton
Quesnel
Defence
Carol Petersen
Westside
Forward
Jennifer Kort
Westside
Centre
Kathy Kealey
NwestVan
Forward
Brenda Janzen
Penticton
Defence
Dana Dang
Westside
Defence
Carolyn Walsh
Westside
Forward
Toni Mogg
Westside
Forward
Mary Ann Walry
Fraser Valley
Centre
Denise Krusel
Fraser Valley
Forward
Andrea Lindsay (did not play)
Quesnel
Defence
TEAM WHITE (WHITE TRASH)

Corrine Dykeman
Westside
Defence
Deb Litnosky
NwestVan
Forward
Katy Mayrs
NwestVan
Centre(Forward)
Joanne Yelland
Westside
Forward
Kelley Pollock
Westside
Defence
Linda Gronsdahl
Westside
Defence
Marilyn Shand
Westside
Centre
Janet Waddington
Fraser Valley
Defence
Kathy Kelemen
Fraser Valley
Defence
Cathy Bryant
Nanaimo
Forward (Centre)
Beth Ross
Nanaimo
Forward
GOALIES

Signe Nielsen
Quesnel
Goalie
Lorraine Zimmpleman
Abbotsford
Goalie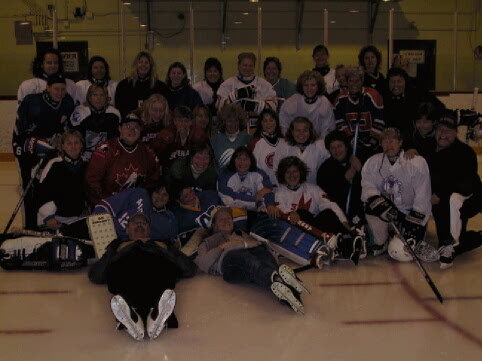 All the players attending after the first practice. Yes those are snakes hanging out of some of their mouths...those black team players...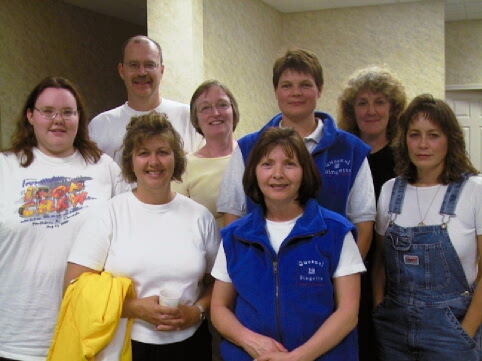 Some of the Red (Red Wings) Team at the wine and cheese party on Friday. There's a story behind our name so ask someone who was there about it.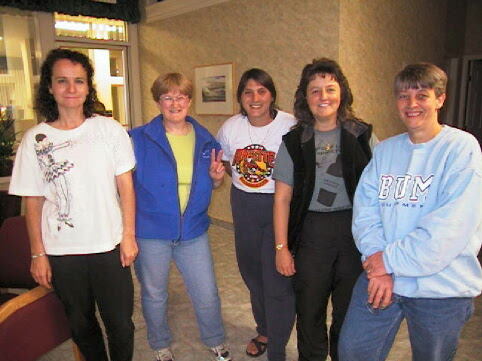 Some of the Black (Black Adders) Team who had snakes hanging off their helmets during the games.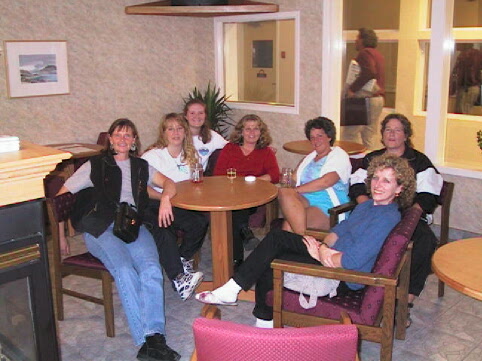 Some of the White (White Trash) Team. These ladies had white trash bags attached to their legs when they played the Red Wings. How did you guys get up when you fell on the ice??

<---Back to BCRA
<---Back to Penticton Ringette
<---Back to TORL